SnowFlake
SNOWPRO CORE CERTIFICATION
The SnowPro Core Certification demonstrates an individual's knowledge to apply core expertise implementing and migrating to Snowflake.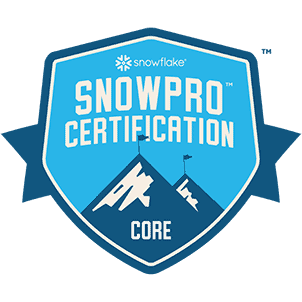 SNOWPRO ADVANCED CERTIFICATIONS
The SnowPro Advanced Certification series, which will be available soon, consist of five role-based advanced certifications:
SnowPro Advanced: Architect
SnowPro Advanced: Database Administrator
SnowPro Advanced: Data Engineer
SnowPro Advanced: Data Scientist
SnowPro Advanced: Data Analyst
Being SnowPro Core Certified is a prerequisite for all advanced exams. Individuals should also have at least two-plus years of hands-on Snowflake practitioner experience prior to attempting the advanced exam.
SNOWPRO ADVANCED: ARCHITECT
A certified SnowPro Advanced, Architect has demonstrated specific knowledge and skills related to the design, development, and implementation of Snowflake solutions by successfully passing the certification exam. The individual has demonstrated the application of Snowflake best practices, advanced tuning, and real-world deployment scenarios.