SnowFlake
We offer comprehensive courses on Snowflake to help you become proficient in cloud data warehousing and analytics. Snowflake is a highly scalable and flexible cloud-based data platform that allows organizations to store, process, and analyze large volumes of data with ease. Our expertly crafted courses cover a wide range of topics, including Snowflake architecture, data loading and transformation, query optimization, security, and advanced analytics. Through hands-on labs and real-world scenarios, you'll gain proficiency in setting up Snowflake environments, loading and transforming data using Snowflake's native capabilities, optimizing queries for performance, and implementing robust security measures. Whether you're a data engineer, a data analyst, or an IT professional looking to enhance your cloud data skills, our Snowflake courses will provide you with the knowledge and tools to effectively harness the power of Snowflake for data-driven insights and decision-making. Join us and unlock the potential of Snowflake's cloud data platform, contributing to the success of organizations in today's data-driven world.
SNOWPRO CORE CERTIFICATION
The SnowPro Core Certification demonstrates an individual's knowledge to apply core expertise implementing and migrating to Snowflake.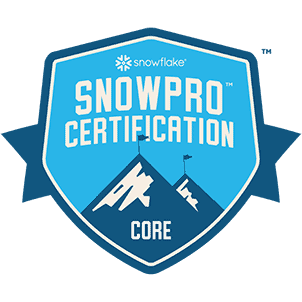 SNOWPRO ADVANCED CERTIFICATIONS
The SnowPro Advanced Certification series, which will be available soon, consist of five role-based advanced certifications:
SnowPro Advanced: Architect
SnowPro Advanced: Database Administrator
SnowPro Advanced: Data Engineer
SnowPro Advanced: Data Scientist
SnowPro Advanced: Data Analyst
Being SnowPro Core Certified is a prerequisite for all advanced exams. Individuals should also have at least two-plus years of hands-on Snowflake practitioner experience prior to attempting the advanced exam.
SNOWPRO ADVANCED: ARCHITECT
A certified SnowPro Advanced, Architect has demonstrated specific knowledge and skills related to the design, development, and implementation of Snowflake solutions by successfully passing the certification exam. The individual has demonstrated the application of Snowflake best practices, advanced tuning, and real-world deployment scenarios.